NPN has been proudly providing a distribution outlet for Original Equipment Manufacturers to the North American Automotive market since 1986. Originally focused on Asian brands, the NPN product offering has recently expanded to include the same high quality service items for all Import and Domestic name plates.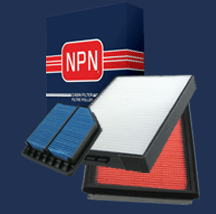 True to our OEM heritage, the entire family of NPN products are manufactured to the very highest quality standards in ISO 9001, ISO TS/16949 and ISO 14001 Certified factories which in many cases also supply import vehicle manufacturers.
NPN, through our distribution partner WORLDPAC, proudly supplies the Automotive aftermarket with the highest quality safety and service items including; engine and cabin filtration, brake friction and hydraulics, and engine timing belts.
Warranty Information
All NPN products are warranted against manufacturing defects for a full 24 months or 24,000 miles (40,000km), which ever comes first.